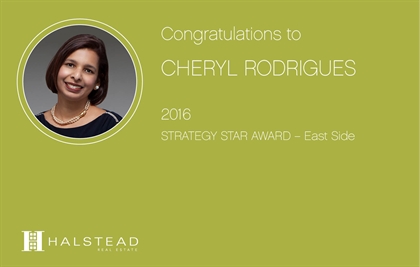 Thrilled to share this good news, at the Halstead Annual meeting I was honoured to receive the Strategy Star Award.
Why did I get this award?
Utmost dedication to my clients. I work for my clients and their best interest.
Clearly understand my client's needs and go above and beyond to meet my clients criteria.
Negotiate on my clients behalf, especially speaking for them in tough transactions and smoothing things over to get the deal done.
Constant touch with my clients mortgage bankers, attorneys and brokers by following the transaction through every step of the process. Making sure there are no loose ends and taking the deal safely to closing.
Patient and understanding of my clients anxiety surrounding this daunting process of owning or selling a home.
Continuous support from my Manager and the Halstead Marketing team.
If the right thing for you is to Sell/Buy/Rent a home, with low level of stress, and good chance of success. Why wait? Please call to discuss. I Love what I do! I'll deal with you directly 24/7 with utmost dedication and professionalism.