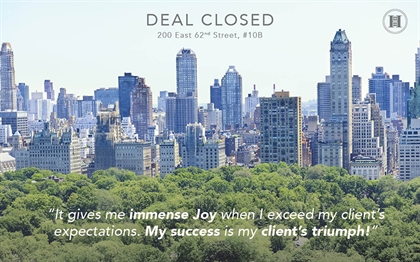 DEAL CLOSED!!! I am humbled and thrilled to announce that I have closed on this splendid new development on 200 East 62nd Street. It gives me immense joy when I exceed my client's expectations. My success is my Client's triumph!
What were my clients looking for?
A brand new construction - there is something to be said to live in an apartment that has never been lived in. Large living room, open concept layout with no wasted space, plenty of light with unobstructed views, proximity to transportation and great restaurants.
My clients testimonial:
"Cheryl was receptive to our every need and found us our dream home even when we were not sure it was out there. Searching for a home in New York City can be stressful and discouraging at times, but having Cheryl at our side made it much more manageable.
It was a pleasure working with Cheryl and I would be thrilled to recommend her to others!"
If the right thing for you is to Sell/Buy/Rent a home, with low level of stress, and good chance of success. Why wait? Please call to discuss. I Love what I do! I'll deal with you directly 24/7 with utmost dedication and professionalism.