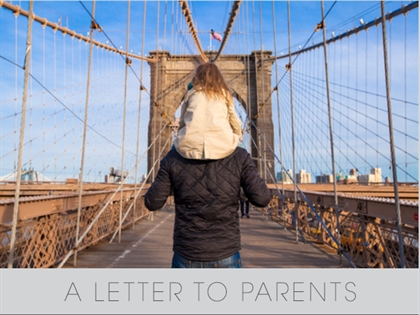 Dear Parent,


Thousands of new graduates will descend on New York City in 2017 to find their first job, and with it, their first apartment.
Finding a job may prove the easier task. What can be comparatively a nightmare is finding a safe, warm and cozy place to live in New York City. Most parents of adult kids looking for an apartment in New York City have this daunting task to helping their kids, who at times do not listen to them anymore. They see themselves as adults, free to make mistakes, at times, costly ones. It is therefore prudent in this case not to be put off with rebuffs, and pluck up courage to come up with some advice as to the best course of action for them to follow, At the end of the day some of them will come back later with the admission "Gee Dad/Mom, thanks so much for your email. It did save me from losing a lot of money".
Some of your kids will try and tackle this important issue alone, or by talking to friends, preferring to rely on the wisdom of their peers; checking Craigslist adds, walking the streets; others will enlist help from Real estate agents and brokers. Finding a good and trustworthy Real estate agent would form the subject of another topic in itself.
There is one aspect of apartment searching in the jungle of New York City that I would like to bring to your attention. As your son or daughter falls in love with a particular apartment, and develops a neurosis "I just must have it", the other party to the deal, either a real estate broker representing the landlord, or the landlord himself, will ask your child to pay a deposit. Typically, the deposit ranges from a few hundred dollars, or up to the equivalent of one month's rent. This is a crucial moment for your son/daughter to be smart, and ask the obvious question "what is the deposit for ?"
The "rental deposit" has a different meaning for the landlord; and a different one for the prospective tenant. Often from the tenant's point of view, the deposit is an incentive for the landlord to take the property off the market. At this point, it is important to be sure to ask whether the property will continue to remain on the market while the application is being processed, documents are collected and leases are prepared and signed. From the landlord's perspective, the deposit is more or less a firm indication that the tenant will stay with the deal, and will not change her/his mind. Hence the landlord will want a deposit as a sign of good faith; that the tenant is serious and will not back out of the deal. If this is what the landlord makes clear his position, you must be prepared to ask questions, such as:
1) Is the deposit refundable? Under what circumstances?
2) What if the application is rejected by the landlord?
3) What if my child requests a refund BEFORE she/he is informed that their application is approved?
4) What if the application is approved, but they do not approve of some of the terms and conditions of the lease proposed by the landlord?
5) And, finally, what if they applied to rent in a co-operative or condominium building? In this case, can they back out of the deal, and have their money refunded, if they decide to back out after the deal was signed but before the co-operative board gave its approval?
It is important to receive straight answers to these questions in writing. And, if you are asked to pay the deposit, well... just decline politely and depart.
If you would like to have more practical further advice on how to rent apartments in New York City, with a low level of stress, and a good chance of success, please contact Cheryl Rodrigues at
crodrigues@halstead.com or 646.823.7690.
I love what I do! I'll deal with you directly 24/7 with utmost dedication and professionalism.
All the Best,
Licensed Real Estate Salesperson