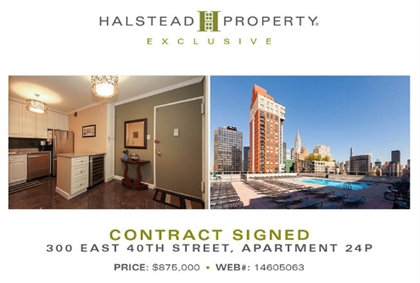 "CONTRACT SIGNED ! So happy to share this wonderful news. My owners are pleased and the buyers are happy to have found a home they were looking for.
How did I achieve this?
My sheer dedication, negotiating skills, and clear understanding of my seller's needs & price point, coupled with working 24/7 enabled me to get a price my sellers were thrilled with. I held many open houses on both weekends and weekdays. I responded quickly to clients' and brokers' emails and kept in constant contact with clients and brokers who showed interest in the apartment, reminding them of the listing's progress. I received fantastic support from Halstead's Marketing department. In a nutshell I did everything in my capacity to get this apartment SOLD!
If you would like to discuss with me how to go about selling your home or buying your future home, please contact me on 646 823 7690. I will be dealing with you directly 24/7 with utmost dedication and professionalism.